TANCET 2008 Quant Question 15 : Trapezium Area : Mensuration
Mensuration Question 14
ABCD has area equal to 28. BC is parallel to AD. BA is perpendicular to AD. If BC is 6 and AD is 8, then what is CD?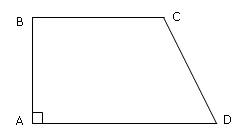 4
6


Correct Answer
:

. Choice (4)
Explanatory Answer
The given shape is a trapezium.
Area of a trapezium =

28 =

Height = 4.
BA is perpendicular to BC and AD.
So, drop a line parallel to BA from C to meet AD at E.
CED is a right triangle with side CE measuring 4 and ED measuring 2 units.
Hence, CD, the measure of the hypotenuse =

Level of difficulty : Moderate to Difficult
---
More Questions on Mensuration - Solid Geometry
CAT, XAT, TANCET Practice Questions and Answers : Listed Topicwise